Birth Death Breath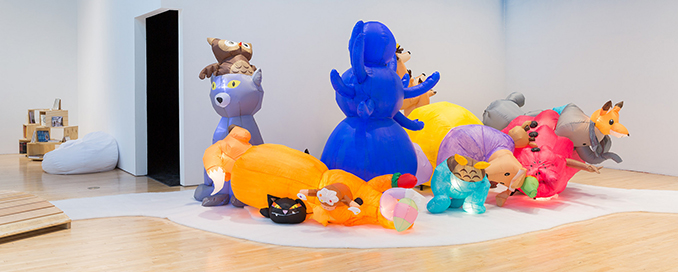 Dates: Sunday, Feb 18, 2018 -
Sunday, Jun 10, 2018
Hours:
Gallery open Fridays, 3 - 7 PM
Saturdays & Sundays, 1 - 5 PM
Free admission, donations appreciated
Birth Death Breath is an opera "performed" by inflatable lawn decorations in various stages of inflation and deflation. As the various characters rise from the ground and begin to sing they experience their inflation as a kind of coming back to life, prompting them to ponder great existential questions about life, death, purpose, and meaning through their songs. Birth Death Breath was conceived, written and staged by artists Diane Christiansen and Jeanne Dunning, both based in Chicago.

Armory galleries are open daily from 12:00 to 5:00 PM (closed Tuesdays and holidays). Admission is always free.
Media
Image: Birth Death Breath Installation 2018. Diane Christiansen and Jeanne Dunning. Photograph by Ian Byers-Gamber. Courtesy of the Armory Center for the Arts.