the act of dying upon one's self and other remnants of a rebirth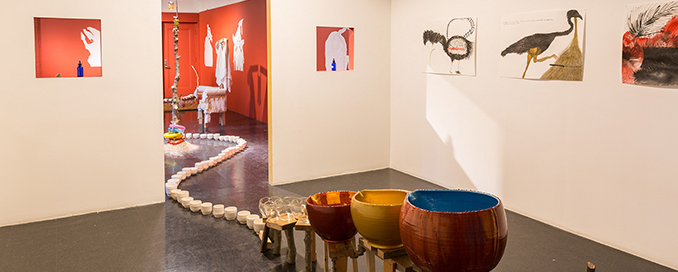 Dates: Sunday, Feb 18, 2018 -
Sunday, Jun 10, 2018
laub's friend, artist iris yirei hu, offers the following reflection:

"In laub's latest body of work, handmade ceramics, works on paper, glass blown sculptures, and assemblages present themselves as fragmented manifestations of loss. A large ceramic vertebrae erupts from the floor of the gallery with an ancient presence beyond human life. A bag of flesh rots beside it, and a suicide cabinet offers a portal into another dimension. In a set of archaeological drawings, laub excavates death by reviving the skeletal remains of animals that have withstood the test of time. Yet fragility is woven throughout the works, working carefully with tenderness to hold each piece together. With his hands, laub wrestles with the stories of life at the brink of breaking, relentlessly embracing grief while life overflows, molds, and evaporates. The glass fractures and the shatter crumbles, surrendering to a transformation larger than life itself."

In addition to his solo exhibition in the Armory's Mezzanine Gallery East, laub joined forces with the artist Jennifer Moon to create ✨Mr. Snuggles FOREVER✨, a magic-infused installation in the stairwell of the Armory celebrating the life, death, and afterlife of Mr. Snuggles, Moon's beloved canine familiar who has become a symbol of revolutionary relational love.
Armory galleries are open daily from 12:00 to 5:00 PM (closed Tuesdays and holidays). Admission is always free.
Media
✨Mr. Snuggles FOREVER✨ has been produced with the generous support of Christopher Yin and John Yoon.

Image: the act of dying upon one's self and other remnants of a rebirth Installation 2018. laub. Photograph by Ian Byers-Gamber. Courtesy of the Armory Center for the Arts.