A Breach in the Realm of Beliefs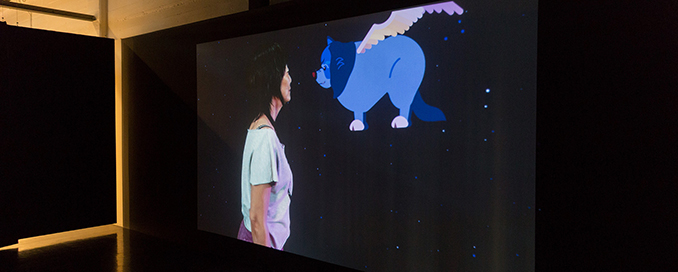 Dates: Sunday, Feb 18, 2018 -
Sunday, Jun 10, 2018
Hours:
Thanksgiving Gallery Hours:
Closed Friday, November 24
Open Saturday & Sunday 1-5 PM
Admission is always free
After examining vectors of oppression down to the quantum scale, Jennifer Moon returns from her adventures of mapping shame and trauma within forms of identification to present a new musical video installation ignited by a rejuvenated commitment to fantasy and magic. Inspired by two iconic songs—"How Far I'll Go" and "I Am Moana (Song of the Ancestors)"—from the 3D-animated musical film, Moana, and continuing Moon's narrative of flight proposed in her egg sculpture, Proposal for My Last Performance on Earth, Prospective Date: 2053 (2014), A Breach in the Realm of Beliefs offers a sincere attempt to retrieve lost faith by re-orientating and repurposing Disney's commodification of feel-good inspirational music to instill an emotional call to revolution that cannot be silenced. Bracketed between these two musical videos is a third video element that will be released in parts, evolving and expanding throughout the exhibition, chronicling the artist's efforts in "real time" to implement her revolutionary goals in life and love.

In addition to her solo exhibition in the Armory's Mezzanine Gallery East, Jennifer Moon has joined forces with the artist laub to create ✨Mr. Snuggles FOREVER✨, a magic-infused installation in the stairwell of the Armory celebrating the life, death, and afterlife of Mr. Snuggles, Moon's beloved canine familiar who has become a symbol of revolutionary relational love.
Armory galleries are open daily from 12:00 to 5:00 PM (closed Tuesdays and holidays). Admission is always free.
Media
Jennifer Moon: A Breach in the Realm of Beliefs has been produced with generous support from Kang Seung Lee and Geoffrey Wall. ✨Mr. Snuggles FOREVER✨ has been produced with the generous support of Christopher Yin and John Yoon.

A Breach in the Realm of Beliefs installation 2018. Jennifer Moon. Photograph by Ian Byers-Gamber. Courtesy of the Armory Center for the Arts.