✨Mr. Snuggles FOREVER ✨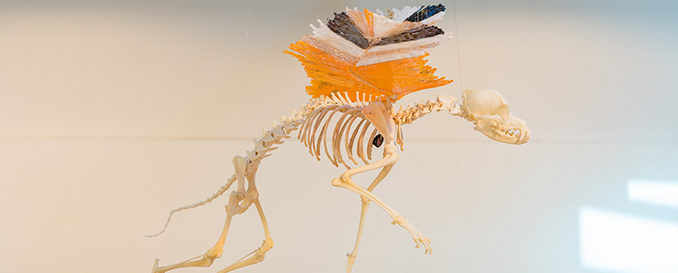 Dates: Sunday, Feb 18, 2018 -
Sunday, Jun 10, 2018
Hours:
Thanksgiving Gallery Hours:
Closed Friday, November 24
Open Saturday & Sunday 1-5 PM
Admission is always free
In addition to their solo exhibitions at the Armory, Jennifer Moon and laub have joined forces to create a magic-infused installation in the building's central stairway celebrating the life, death, and afterlife of Mr. Snuggles, Moon's beloved canine familiar who has become a symbol of revolutionary relational love. This transcendent installation, consisting of pictorial tapestries lining the two walls of the stairwell and the articulated skeletal structure of Mr. Snuggles flying above with mouth-blown glass wings, sets a tone of heartfelt reflection, awe, and inspiration leading visitors up to experience laub's and Moon's individual exhibitions in the Mezzanine Galleries.
Armory galleries are open daily from 12:00 to 5:00 PM (closed Tuesdays and holidays). Admission is always free.
Media
• See Exhibition on Flickr


✨Mr. Snuggles FOREVER✨ has been produced with the generous support of Christopher Yin and John Yoon.
Image: ✨Mr. Snuggles FOREVER✨ Installation 2018. Jennifer Moon and laub. Photograph by Ian Byers-Gamber. Courtesy of the Armory Center for the Arts.