Slanguage Residency at The Armory's La Casita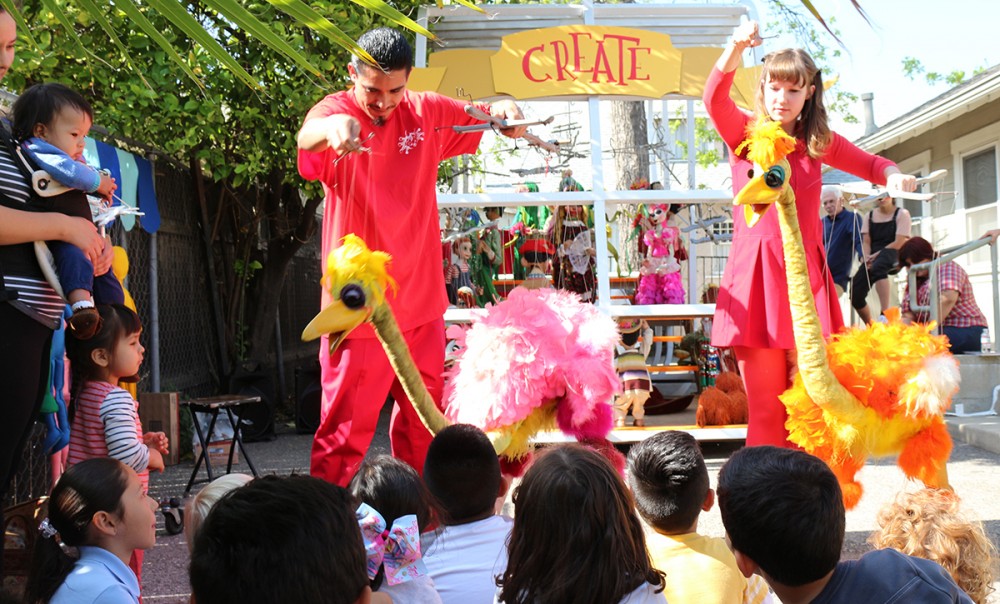 Dates: Sunday, Oct 1, 2017 -
Monday, Apr 30, 2018
Artist team Slanguage's 6-month residency at the Armory's La Casita—a vibrant art and social service center in Northwest Pasadena—featured collaborative art projects and special events for the community.

Slanguage co-founders Karla Diaz and Mario Ybarra, Jr. observed that when they first started La Casita residency, that had a very general idea of the thematic they wanted to use, but discovered so much along the way, allowing the place and the people to inspire it. "We first did research and looked at possibilities of sculpture in homes and self-taught artists. For instance, we took a few trips to the Haunted Shack Garden in Pasadena -- the home of Brent Allen Spears, which has been transformed into sanctuary of altars, totems, and sculptures built of recycled materials, broken ceramics, and discarded objects. We also went to Disneyland to look at the Light Parades and how they built them. We had writing and drawing sessions for ourselves to brainstorm. And finally we took note of the school across the street, the kids, the parents, and all the street vendors that daily pass by to sell candy, fruits, and snacks. We were so much inspired by the vendors and their packed food carts and trucks, which were sculptural and architectural. Finally, we decided to use the idea of a discarded object like the Haunted Shack Gardens. This was structure that was left in the back of La Casita which nobody knew what it was and who it belonged to. So we decided this would be the perfect stage to be transformed and reused as a public stage."

The centerpiece of the residency was Offerings — a temporary outdoor, social sculpture that explored notions of memorial and memory. The sculpture, a "stage" for public engagement, was activated with a series of events and programming at La Casita. All events were free and open to the public:

Slanguage and the Bob Baker Marionettes
Friday, April 27, 3 - 7 pm
Featured a reading of an original story about family by Slanguage co-founder Karla Diaz. An accompanying performance and workshop was led by the Bob Baker Marionette puppeteers and encouraged visitors to make their own puppets and performing their stories.

• See Event Photos

Mask Making Workshops
Sunday, May 13, 2 - 4 pm
Wednesday, May 16, 6 - 8 pm
Sunday, May 20, 2 - 4 pm
Inspired by the Japanese community Obon Festival and practice of remembering ancestors, Slanguage lead three consecutive paper-mache mask workshops based on mythological characters.

• See Workshop Photos

• See Workshop Video

About Slanguage
Founded in 2002 by Karla Diaz and Mario Ybarra, Jr., Slanguage is an itinerant artist group based across Los Angeles. Currently, members make artwork, curate exhibitions, coordinate events, and lead art-education workshops. A diverse group at various points in their careers, Slanguage includes teenagers, street artists, and established mid- to late-career artists, the majority of whom live and work in the greater Los Angeles area, especially Wilmington, where their previous headquarters was located.

Slanguage bases their practice on a three-pronged approach to art-making to include education, community-building, and interactive exhibitions. Focusing on art education, the collective has organized numerous artist residencies in museums across the United States and abroad. Fostering dialog about the meaning and value of contemporary art, Slanguage has used their studio space and resources to cultivate relationships between diverse artists, students, communities, and organizations. Creating artworks that have ranged from multimedia installations to performances, public events, and workshops, the collective has enriched, inspired, and provoked viewers' imaginations through local, national, and international exhibitions.

Slanguage's residency at La Casita was made possible with support from the California Arts Council.