Club SCUM: Three Year Anniversary Exhibition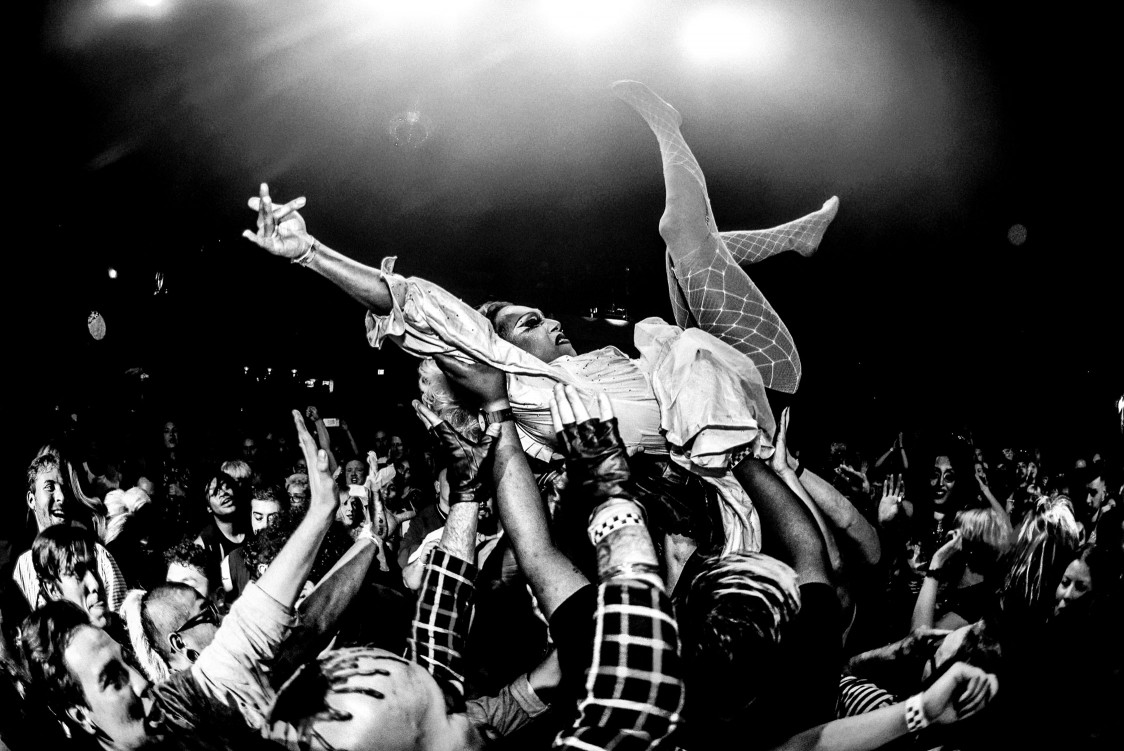 Dates: Sunday, Jun 23, 2019 -
Sunday, Sep 15, 2019
Hours:
Armory galleries are currently closed.
Our new exhibition opens on January 28, 2022.
Exhibition Opening: Jun 22, 2019
6:00 PM to 8:00 PM
---
We hear much talk about "safe spaces" and "brave spaces," where people are empowered to bring their whole selves without fear of discrimination or harassment... But "safe" and even "brave" don't begin to capture the energy and spirit on view in this exhibition. Through the eyes of its documenters, Club Scum comes across as a 'fierce space,' defiant and unapologetic. It doesn't just cross boundaries; it transforms them. — Los Angeles Times
---
As Club SCUM enters its third year, the Armory celebrates this milestone with an exhibition that features ephemera, flyers, and photographs taken at the club. Founded by Rudy "Bleu" Garcia and Ray "Hex-Ray" Sanchez, Club SCUM is a boundary-pushing, community-building, monthly queer punk POC party at Chico, a venue located on the border of East Los Angeles and Montebello. With its focus on diverse drag performers, and identities that don't fit into stereotypes, Club SCUM is a platform that welcomes everyone and provides queer Latinx youth a space to gather, create, dance, sweat, feel safe, and transcend the routines of everyday life.

The exhibition coincides with the 50th anniversary of the Stonewall uprising in New York City, a series of protests against police raids of Stonewall Inn, a mainstay of gay club culture in Greenwich Village. The uprising is considered a catalyst for what came to be called the gay liberation movement and today's advocacy for LGBTQ rights.
Please join us this Sunday, September 15 from 2-4 pm at the Armory Center for the Arts for a closing artist panel and discussion on the photographs, imagery, and documentation tracing Club SCUM's prolific three-year history. The panel will include Brian Johanson, Sarahjane Pattwell, Martha Quintero, and Daniel "Chino" Rodriguez, artists whose works are currently on view in the Club SCUM: Three Year Anniversary exhibition, and will be moderated by artist Shizu Saldamando.

Saturday, September 7, 2019
Club SCUM and the Armory invite all queer youth of color and allies to a day of creative workshops and presentations celebrating and empowering identity through self-expression. Presented by leading culture makers from Club SCUM's creative community, this full day of programming will include workshops on zine production, queer photography, the basics of DJ-ing, and Drag 101 with the queens of Club SCUM, as well as conversations with Project Q founder Madin Lopez, comic book artist Sina Grace, and performance artist Rafa Esparza, and more. Additionally, free, gender-affirming haircuts will be available throughout the day for youth, and sliding-scale cuts for adults.

Media
East LA's Club sCUM Hosts the Spanish-Language Queer Punk Party of Your Dreams
(Remezcla)
Club Scum celebrates three years of championing the LGBTQ Latinx community
(LA Times)

19 Photos Celebrate the Beauty of SCUM
(The Advocate)

Latinx, queer, punk. Club Scum exhibition captures the fierceness, in full
(Los Angeles Times)
Image: Drag Surfin' USA by Anthony Mehlhaff, 2019.