Trudie Strobel: A Life in Tapestry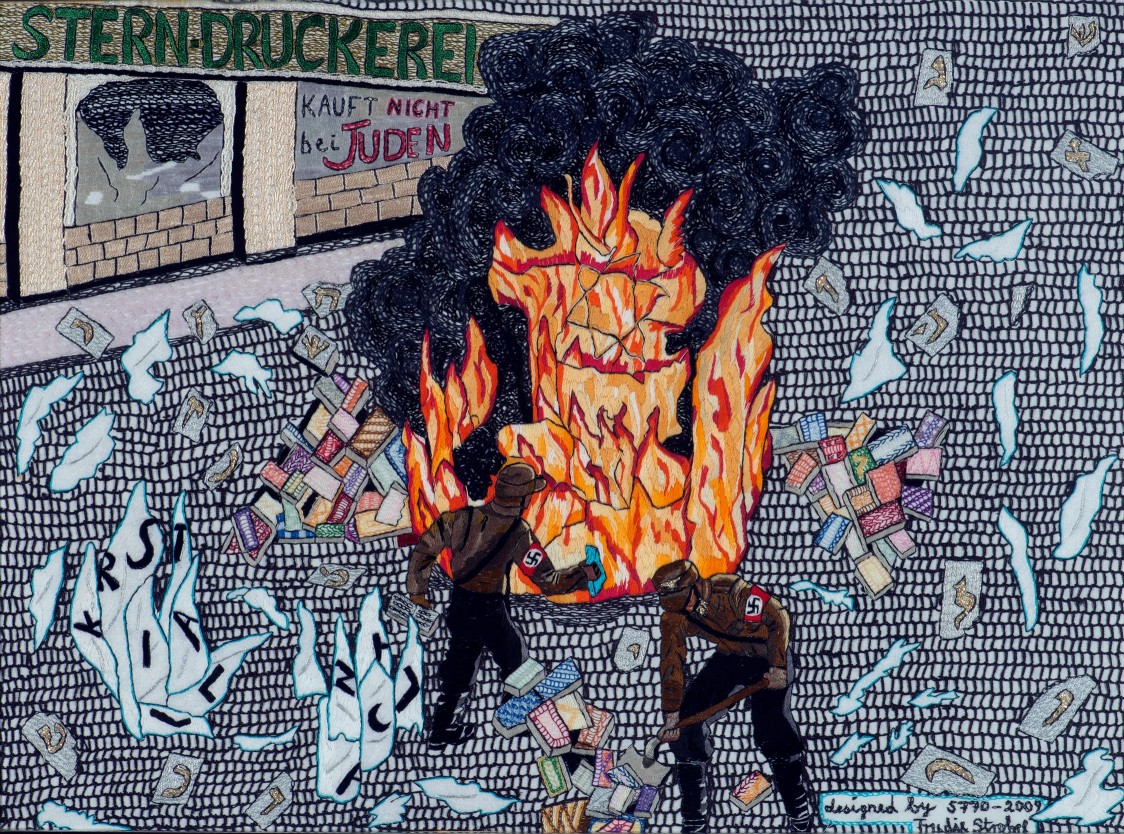 Dates: Saturday, Dec 14, 2019 -
Sunday, Mar 1, 2020
Hours:
Reception:
Sunday, December 15, 3:00 - 5:00 pm
Holocaust survivor Trudie Strobel's haunting embroidery work is drawn from the stitching techniques of the Yemenite Jews and chronicles the history of the Jewish people, the horror of genocide, and tells a cautionary tale that is still relevant today. Please join us for an opening reception on Sunday, December 15 from 3:00 to 5:00 PM. All are welcome.

This extraordinary exhibition, organized and curated by a pair of extraordinary local teens, was first exhibited this past August at the Feldman-Horn Gallery at Harvard Westlake School in Los Angeles.

Curators' Statement
"While Trudie began stitching to process the story of her survival, her experiences as a child of the pogroms (Russia) and then the Nazis, she kept on stitching until she had created vast tapestries of the history of the Jewish people. We have created an exhibition that displays these tapestries in hope of sparking greater interest and knowledge about genocide. The viewing of Trudie's work and a telling of her story provide the opportunity to expose more people to this visceral form of genocide education. Ultimately, we strive to foster greater awareness and empathy as individuals see the Holocaust through the personal eyes of a survivor's artwork. And as the horrors of oppression and genocide have continued to impact many other cultures and people throughout the world, it is more important than ever that our awareness be a call to action."

— Maya Savin Miller & Lila Dworsky-Hickey
This project is supported by the Dragon Kim Foundation, the Righteous Conversations Project, and the Remember Us Project. If you would like to make a donation, click here. Be sure to include "For Trudie Strobel" in the memo section during checkout.