Tanya Aguiñiga Video Series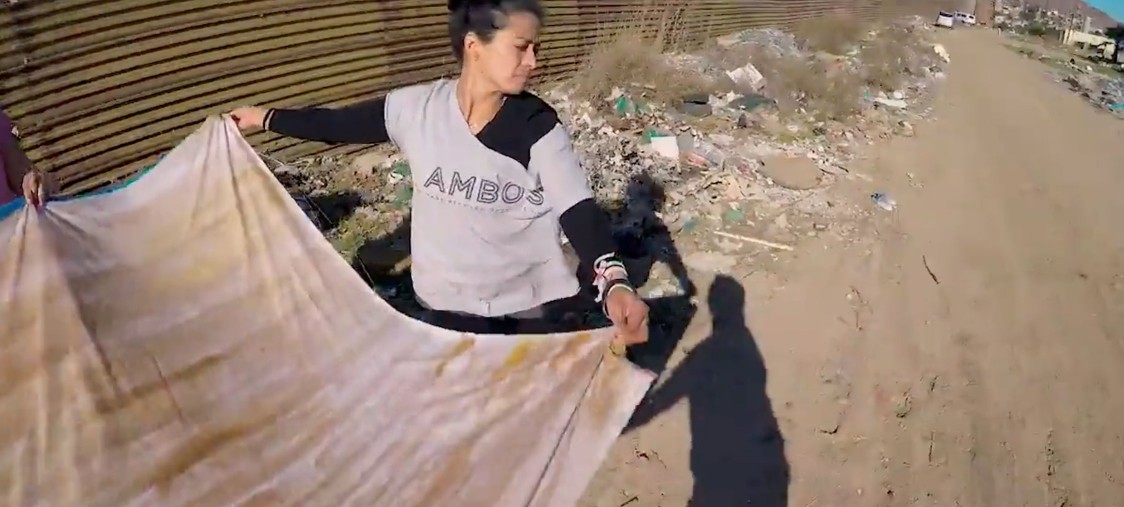 Dates: Thursday, Oct 8, 2020 -
Sunday, Oct 25, 2020
Time:
10:00 AM to 10:00 PM
Hours:
Throughout October, the Armory will stream a rotating selection of video-based work by Tanya Aguiñiga from her exhibition Borderlands Within/La Frontera Adentro.

Visit armoryarts.org/borderlands-series to watch starting October 8.

A lo largo de octubre, Armory transmitirá una selección rotativa de trabajos en video de Tanya Aguiñiga de su exposición Borderlands Within / La Frontera Adentro.

Visite armoryarts.org/borderlands-series para verlo a partir del 8 de octubre.
Schedule/Calendario
---
On View from October 8 through October 11
---
96 Deaths (96 Muertes)
2017
Single-channel video, color, sound/video monoclonal, sonido, color; 13 min., 52 sec.

On September 1, 2017 the United States border wall in Sasabe, Arizona was struck ninety-six times while a name was read—each time to honor the life of every man, woman, and child who had died because of border militarization in Southern Arizona since the first of that year. This performance was an annual realization of the score Until There Are No More Deaths—an original percussion piece written by Glenn Weyant for border walls wherever they exist. Since Humane Borders began tracking in 1981, immigrant deaths between Mexico and Arizona number 3205 through the end of 2019.

El 1ro de Septiembre, 2017 la reja fronteriza en Sasabe, Arizona, fue golpeada noventa y seis veces mientras un nombre fue leído—cada vez para honrar la vida de cada hombre, mujer, y niño que ha muerto debido a la militarización de la frontera al sur de Arizona desde el primer día de ese año. Este performance fue la realización anual de la partitura Until There Are No More Deaths (Hasta que no hay más muertes)—una composición original de percusión para las paredes fronterizas, dondequiera que existan, escrita por Glenn Weyant. Desde que Humane Borders (Fronteras Humanas) empezaron a contar en 1981, 3,205 inmigrantes han muerto entre México y Arizona a partir del fin de 2019.

Percussion/Percusión: Tanya Aguiñiga, Cecilia Brawley, Natalie Godinez, Diana Ryoo, y Glenn Weyant Reader/Lectora: Jackie Amézquita

Tensión (Tension)
2017
Single-channel video, color, sound/video monoclonal, sonido, color; 4 min., 25 sec.

Jackie Amézquita and Tanya Aguiñiga both learned to backstrap weave from Mayan women in Chiapas (Southern Mexico) and Guatemala, respectively. For Tanya, backstrap weaving represents the resistance and resilience of pre-colonial culture and knowledge. It is a tool for creating fiber that records the bodily connection to labor. In this performance, Jackie and Tanya are tied together through the border fence. Tanya is in Douglas, Arizona, U.S., and Jackie is in Agua Prieta, Sonora, Mexico in constant view of the U.S. Border Patrol. The tension and support became crucial in each other's weaving. This site is of particular significance because it is the town where Jackie attempted to enter the U.S. as a teenager to reunite with her mother.

Jackie Amézquita y Tanya Aguiñiga aprendieron a tejer en telar de cintura de mujeres Mayas, en Chiapas (el Sur de México) y Guatemala, respectivamente. Para Tanya, tejer en telar de cintura representa la resistencia y resiliencia de la cultura y conocimiento pre-colonial. Es una herramienta para crear textiles que registra la conexión del trabajo físico al cuerpo humano. En este performance, Jackie y Tanya están atadas a través de la reja fronteriza, la primera en Douglas, Arizona, United States, y la segunda en Agua Prieta, Sonora, Mexico, en constante vista de la Patrulla Fronteriza de EUA. Su tensión y apoyo fue crucial en los tejidos de cada una, creando una pieza comunal. Este sitio tiene un significado particularmente importante, ya que es en dónde Jackie intentó cruzar cuando era adolescente para reunirse con su madre.
---
On view from October 15 through 18
---
America's Wall (El muro de America)
2018
Single-channel video, color, sound/video monoclonal, sonido, color; 4 min., 31 sec.
Cotton, vinegar, rust/Algodón, vinagre, óxido

This performance was inspired by the persistent questioning Tanya faces regarding the existence of a "wall" in her travels across the U.S. and Mexico. It documents and extracts evidence of the wall's existence—there are three consecutive walls in the part of Mexico where grew up—in front of Trump's proposed wall prototypes. This section of border fence, at Shroud of Turin, is made up of corrugated jet landing mats that were recycled from the Gulf War/Desert Storm. It was erected during Operation Gatekeeper, a strategic reinforcement of the U.S./Mexico Border, which was responsible for more migrant deaths in its first year than in the entirety of the previous seventy five years of Border Patrol History. She and her team took rust impressions from these walls on cotton as evidence of their existence.

Este performance fue inspirado por las preguntas constantes que Tanya recibe durante sus viajes a través de Estados Unidos y México acerca de la existencia de una "pared." Hay tres paredes consecutivas en la parte de México en donde creció. Frente a los prototipos de las bardas propuestas por Trump, ella y su equipo usaron tela de algodón para hacer impresiones de óxido de la barrera existente y extraer evidencia de su existencia. Esta sección del cerco fronterizo fue construida con metal reciclado usado durante la Guerra del Golfo/Operación Tormenta del Desierto para el aterrizaje de aviones. Fue instalada durante Operation Gatekeeper, una estrategia de reforzamiento de la frontera de EUA-México, la cual fue responsable de más muertes de migrantes en su primer año de las que habían ocurrido durante los primeros setenta y cinco años de la Patrulla Fronteriza (Border Patrol).

Performed by/realizado por: Tanya Aguiñiga, Jackie Amézquita, Cecilia Brawley, Natalie Godinez, Izabella Sanchez and/y Shannen Wallace

Seam (Costura)
2016
Single-channel video, color, sound/video monoclonal, sonido, color; 1 min., 20 sec.

Mexicali/Calexico Border Crossing Time-Lapse (Time-Lapse: cruzando la frontera entre Mexicali/Calexico)
2018
Single-channel video, color, sound/video monoclonal, sonido, color; 2 min., 22 sec.

This time-lapse video condenses three hours into two minutes, 22 seconds of the AMBOS team's crossing from Mexico into the U.S. at the Calexico Port of Entry.

Este video time-lapse condensa tres horas del cruce fronterizo del equipo de AMBOS de México a Estados Unidos en el Puerto de Entrada de Calexico a dos minutos, 22 segundos.

Grapple (Forcejear)
2018
Single-channel video, color, sound/video monoclonal, sonido, color; 15 min., 37 sec.
Linen, vinegar, rust/Lino, vinagre, óxido

"Grapple is my impotent and shaky grip attempt to reconcile the work we are doing with AMBOS and take ownership of this physical and emotional space. The border fence, especially this particular stretch of fence, has haunted my memories, as it was absent most of my childhood and left a marked scar on my small town of Playas de Tijuana when it was installed. The fence is a permanent reminder that we are not wanted, that we are less than, that we are what gets filtered out. It is a stigma we invisibly carry the rest of our lives, as we find our place in the world navigating the liminal."

"Grapple (Forcejear) es mi estrecho inseguro e impotente trata de reconciliar el trabajo que hacemos con AMBOS y adueñarme de este espacio físico y emocional. El cerco fronterizo, en particular este pedazo, ha atormentado mis memorias ya que estaba ausente durante la mayoría de mi niñez y ha dejado una cicatriz en mi pequeño pueblo de Playas de Tijuana desde que fue instalado. El cerco es un recordatorio permanente de que no somos bienvenidos, que somos menos que, que somos las cosas que son filtradas hacia afuera. Es un estigma que llevamos por el resto de nuestras vidas, al buscar nuestro espacio navegando lo liminal."

Performed by/realizado por Tanya Aguiñiga with/con Jackie Amézquita, Cecilia Brawley, Natalie Godinez, Izabella Sanchez, and/y Shannen Wallace
---
On view from October 22 through 25
---
Borderscapes (Fronterizajes)
2017-2018
Single-channel video, color, sound/video monoclonal, sonido, color; 22 min., 30 sec.

These are shots of the border fence as seen from both the U.S. and Mexico from El Paso/Juarez to San Diego/Tijuana. They show international ports of entry as well as populated and desolate areas along the fence.

Estas son tomas del cerco fronterizo visto desde Estados Unidos y México, desde El Paso/Cd. Juárez hasta San Diego/Tijuana. Muestran Puertos de Entrada internacionales, así como áreas pobladas e inhóspitas.
---
About the Exhibition/Sobre la Exposición
---
Drawing from the lived experience of the US/Mexico border, Tanya Aguiñiga has developed an experimental approach to craft, using fiber, ceramics, hand-blown glass, and traditional techniques to generate conversations about and across political and cultural divides. Given the ongoing persecution of migrants along the border, and amid an increasingly polarized political climate, Aguiñiga's exhibition at the Armory highlights her long-standing commitment to thoughtful and urgent dialogue on immigration politics, transnational identity, and community activism. Along with the Los Angeles debut of some of the artist's most iconic works, including the binational border-epic AMBOS, this exhibition also features a site-specific commission that repurposes the walls of the Armory as an artist-activated loom, video of which can be seen here, along with images from the exhibition.

A partir de la experiencia vivida en la frontera entre Estados Unidos y México, Tanya Aguiñiga ha desarrollado un enfoque experimental de la artesanía, utilizando fibra, cerámica, vidrio soplado a mano y técnicas tradicionales para generar conversaciones sobre y a través de las divisiones políticas y culturales. Dada la persecución continua de los migrantes a lo largo de la frontera, y en medio de un clima político cada vez más polarizado, la exhibición de Aguiñiga en el Armory destaca su compromiso de larga data con el diálogo reflexivo y urgente sobre políticas de inmigración, identidad transnacional y activismo comunitario. Junto con el debut en Los Ángeles de algunas de las obras más icónicas del artista, incluyendo la épica fronteriza binacional AMBOS, esta exposición también presenta una comisión específica del sitio que reutiliza las paredes de el Armory como un telar activado por el artista, cuyo video se puede ver aquí, junto con las imágenes de la exposición.
Image: Installation photograph of America's Wall (2018). Photograph by Ian Byers-Gamber.