In Conversation: Dina Abdulkarim and Hugo Hopping, Moderated by Harry Gamboa Jr.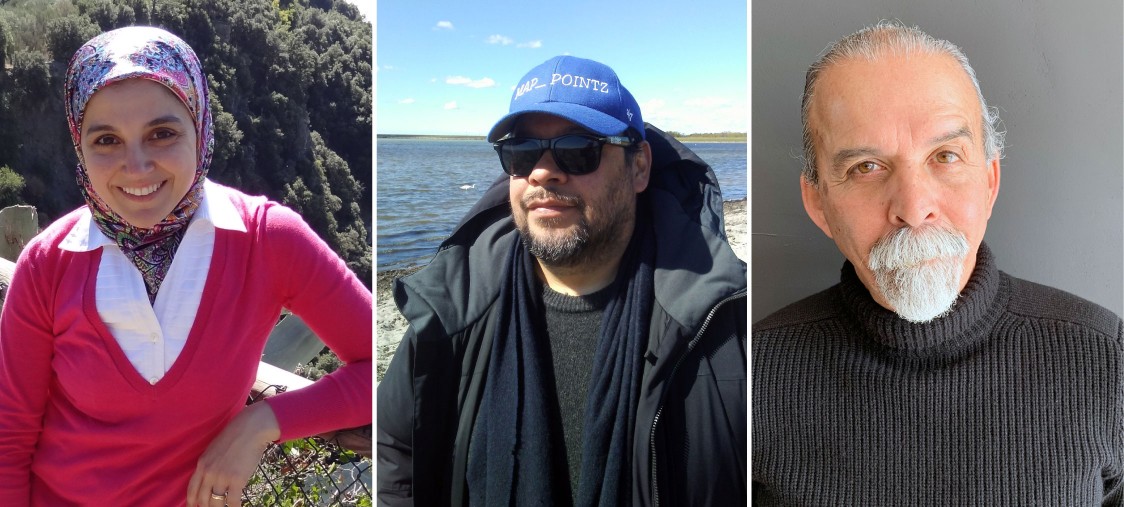 Dates:
Thursday, Feb 25, 2021
Join artists Dina Abdulkarim and Hugo Hopping for a conversation moderated by artist Harry Gamboa Jr. and introduced by the Armory's Chief Curator Irene Georgia Tsatsos. This conversation has been pre-recorded for broadcast.

The inspiration for this talk came from some of the key themes of the 2019 exhibition by The Winter Office at the Armory, including the production of "non-perfect" models of adaptation to ever-shifting, always contested environmental conditions. Using the exhibition as a point of departure, this dynamic conversation looks at the evolving Los Angeles urban landscape against the dissolution of public space, the exclusive architecture of privacy, and housing inequities.
About the Panelists
Dina Abdulkarim, Ph.D., is a Middle Eastern-born American artist, architect, urban designer, and city planner. In her paintings, Abdulkarim combines patterns of arabesque motifs with aerial views of built structures to express the spiritual and everyday realities of these places, and how they interact with (or infuse) each other to present individual experience as well as those that are social and cultural. In addition to maintaining a studio practice, Abdulkarim is Associate Professor of Urban and Regional Planning at the California State Polytechnic University in Pomona, CA. Her teaching and research explore the perceptive and evaluative attributes of public places and the creative interpretations of their meanings. She is interested in the ways the social and psychological dimensions of places impact people's sense of belonging and wellbeing. In line with her focus on equity, diversity and participatory social change, Dina Abdulkarim collaborates with community organizations on projects that aim to use art and creative placemaking as a tool for building livable and vibrant communities.

Hugo Hopping is an American artist, writer, and curator from Los Angeles, currently based in Copenhagen, where his practice blends conceptual art, aesthetic and design education, and collaborative cultural production. Hopping has exhibited widely, both as an artist and curator, most recently in Manifesta 13, Les Paralleles du Sud in Marseille, France. In addition to his artistic activity, he writes about art, architecture, and cultural history. Together with the Danish urban planner and architect Johanna Ferrer Guldager, he co-founded and directs the artistic/design group called The Winter Office. Since 2010, the group has worked through blended artistic research projects that integrate art, architecture, and design to address social, urban, and ecological challenges.

About the Moderator
Harry Gamboa Jr. is a photographer, director, author, and performance artist internationally recognized for the combination of activism and social critique that informs his work. He was an organizer of the East LA Walkouts of 1968, and a co-founder of the avant-garde art collective ASCO (1972 to 1987) and the international performance troupe Virtual Vérité (2005-2017). During the pandemic, Gamboa contributed to In Plain Sight, an artist project (by rafa esparza and Cassils) that fights migrant detention and the culture of incarceration, in a performance that appeared in the sky above the Mesa Verde ICE Processing and Detention Center in Bakersfield, CA. He was also commissioned by the Autry Museum to produce a series of photographs that document the presence and impact of Covid-19 across Los Angeles, representing the anxiety, isolation, and vulnerability, along with the resilience and strength, of Angelenos living in this "new normal." Gamboa has received numerous awards for his work, and has taught, lectured, and participated in panel discussions at various universities internationally. His work is in many museum collections and he has exhibited his artwork around the world. Harry Gamboa is the Co-Director of and Faculty in the Program in Photography and Media at California Institute of the Arts in Valencia.


Image (from left): Dina Abdulkarim, Hugo Hopping, and Harry Gamboa Jr. Photo of Harry Gamboa Jr. by Barbara Carrasco.