Sara Kathryn Arledge: Serene for the Moment Book Launch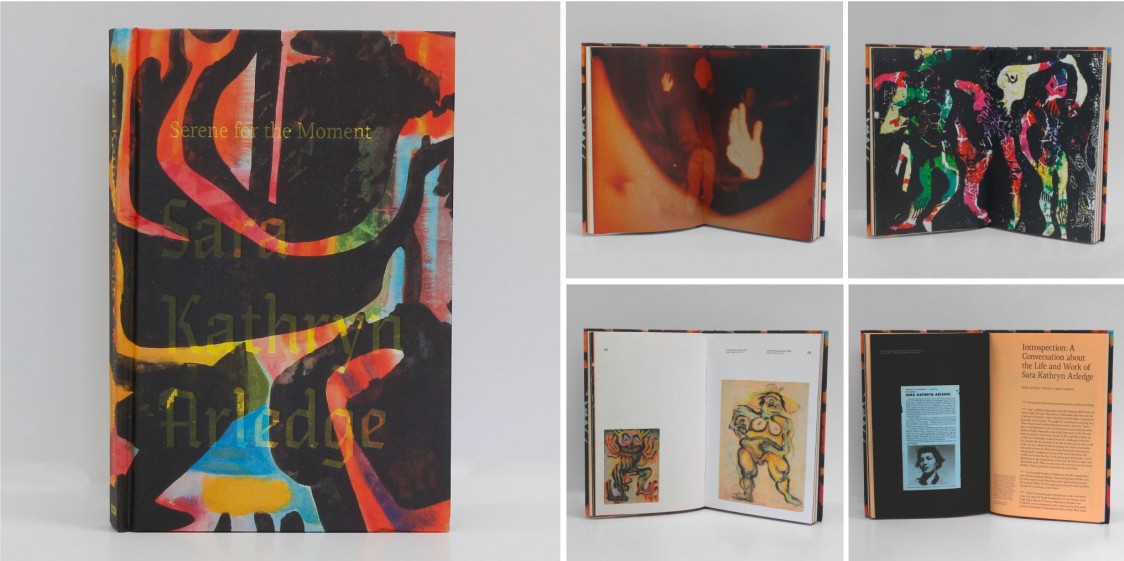 Dates:
Thursday, Mar 11, 2021
Join us on March 11 for the live book launch of Sara Kathryn Arledge: Serene for the Moment, the first extended monograph on the artist. The event features comments and readings of texts from the catalog by Irene Georgia Tsatsos, Sasha Archibald, and Sarah McColl; a presentation of the artist's rarely seen hand-painted glass transparencies, along with exhibition images; plus an interactive, Arledge-inspired art activity by artist Julia O. Bianco. This virtual event is free and open to everyone.
---
---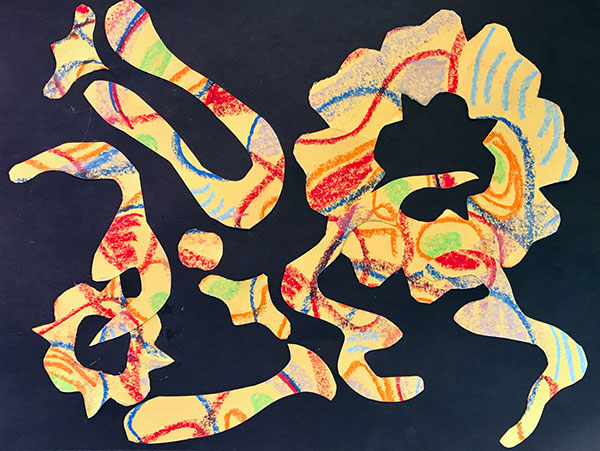 Materials List: Julia O. Bianco's Art Activity
In preparation for Bianco's art making activity, the artist suggests assembling the following items to create your own Arledge-inspired collage, similar to the one pictured above.
Two or more sheets of different colored/textured paper, preferably one dark and one light (e.g.: black and red, white and blue).
Brown paper bag (optional)
Translucent wax paper, vellum, tracing paper, and cellophane tape (optional)
Something colorful to draw with (e.g.: oil pastels, color markers, color pencils, crayons).
Water-based glue (e.g.: glue sticks, white glue, paste, etc.)
Scissors
Assorted color paper scraps (optional)
BAMPFA Screening Series & Presentation
On March 14, and as part of a month-long video series devoted to Arledge, Berkeley Art Museum and Pacific Film Archive (BAMPFA) will host a livestream presentation of Sara Kathryn Arledge: Serene for the Moment with the Armory's Director of Exhibition Programs/Chief Curator Irene Georgia Tsatsos. More details about the screening series and presentation can be found here.


About the Panelists
Sasha Archibald writes essays about aesthetics and visual culture. Her work has appeared in The White Review, The Point, Cabinet, The Believer, Longform, East of Borneo, X-TRA, The New Inquiry, and Los Angeles Review of Books, among others, and been commissioned by institutions including the Walker Art Center, Minneapolis, MN; Culturgest, Porto, Portugal; Parrish Art Museum, Water Mill, NY; Headlands Center for the Arts, Sausalito, CA; and the Museu d'Art Contemporani de Barcelona. In addition to her writing practice, Archibald is a curator and nonprofit arts worker, most recently as director of public programs at Clockshop in Los Angeles. She was a curatorial fellow in the Whitney Museum Independent Study Program and is an editor-at-large at Cabinet. She teaches critical studies at Pacific Northwest College of Art.

Sarah McColl is the author of the memoir JOY ENOUGH (New York: Liveright/W. W. Norton & Company, 2019), a Belletrist Book Club Selection. Her writing has appeared in numerous publications, including the Paris Review, McSweeney's, The Guardian, and StoryQuarterly, which nominated her essay on singer-songwriter Connie Converse for a Pushcart Prize. She has been awarded fellowships from the Millay Colony for the Arts, Austerlitz, NY; Ucross, Clearmont, NY; Vermont Studio Center, Johnson, VT; and the MacDowell Colony, Peterborough, NH, where she was named the 2017 Mary Carswell Fellow. She holds an MFA from Sarah Lawrence College, Bronxville, NY, and lives in Los Angeles.

Julia Orquera Bianco was born in Argentina and has lived in Mexico and the United States. Her art practice interrogates her everyday experience through addressing collective and personal heritage and the legacy of Western Culture as a platform to create objects, installations and time-based media that put into question identity, presenting it as a constant process of deconstruction, experienced through a body in motion, influenced by the past but re-contextualized and impacted by the present and the place. Her latest work explores alternative formats through the use of traditional and non-traditional materials in unconventional ways. Her work has been showcased in Argentina, Canada, Mexico, New Zealand and the United States. In 2018, Orquera Bianco graduated from the MFA program at Roski School of Art and Design, University of Southern California, Los Angeles.

Irene Georgia Tsatsos is Director of Exhibition Programs and Chief Curator at the Armory Center for the Arts in Pasadena, CA, a position she has held since 2010. An artist and facilitator of art production and distribution, Tsatsos considers social spaces and other outcomes of diverse art practices, as well as the circumstances that affect the funding, production of, and access to art. From 1997 until 2005, she was executive director of Los Angeles Contemporary Exhibitions, and has held curatorial positions at the Whitney Museum of American Art, the Arts Club of Chicago, and Chicago's alternative space N.A.M.E., where she served as executive director. She was the founding chair and remains a member of the board of the Women's Center for Creative Work in Los Angeles.

This publication received major support from the Sara Kathryn Arledge Memorial Trust and Karen Hillenburg, generous support from Wendy Munger, and additional support from Nisha Warfield. The exhibition received major support from the Pasadena Art Alliance.