Log in to Emerging Arts Tech with Devon Baur and Peter Wu+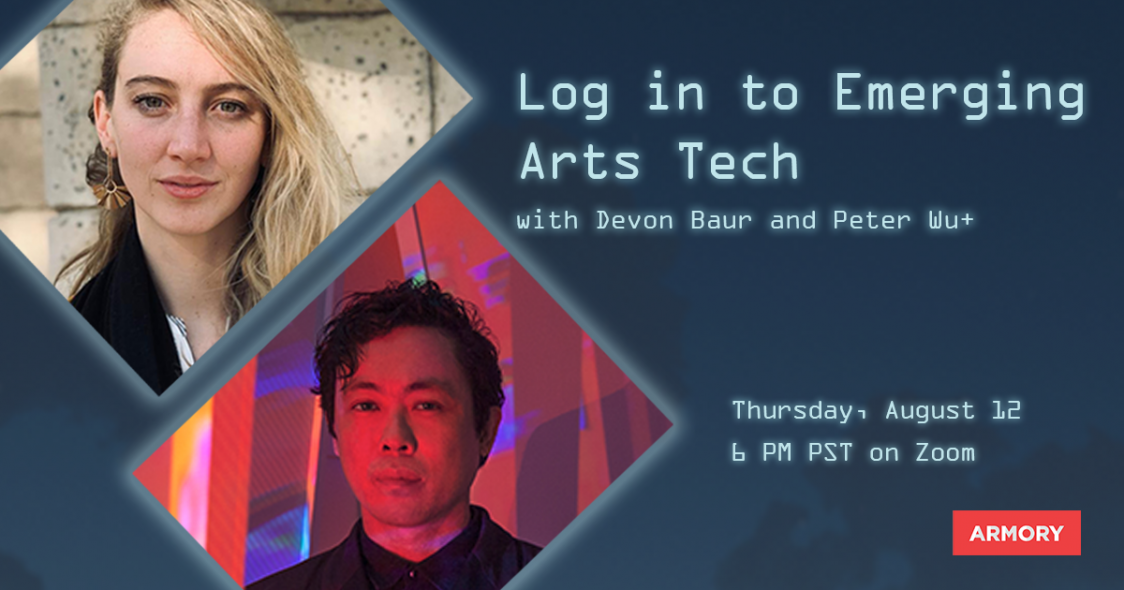 Dates:
Thursday, Aug 12, 2021
Thank you to all who joined the Armory in taking a look at emerging art technologies with artists Devon Baur and Peter Wu+. Produced and moderated by the Armory's Getty interns Shardé Alexander and James Morris, this conversation and virtual tour focused on how emerging technologies will transform art over the next decade. Watch the recording below as the artists present past, ongoing, and new projects, including Devon's ongoing Smell. Print. exhibition at the Architecture and Design Museum, as well as Peter's virtual exhibition FREEPORT.
Watch the Recording
---
---

About the Artists

Peter Wu+ generates artworks and immersive environments utilizing animation and rendering software, projection mapping, 3D printing, and machine learning. Thematically, he draws upon the genres of speculative and science fiction to investigate our estrangement associated with technological advancement and modernity. Wu+'s work examines how technology can alter and influence our perceptions of identity, reality, and history.

In 2020, he founded and created EPOCH, an artist-run virtual experiment that functions as an inclusive community building platform inviting established and emerging artists working in both digital and analog mediums to participate. Being primarily artist-centric, EPOCH has established itself as a virtual destination that challenges the status quo with its critical and innovative approach to curation and exhibition building. In 2019, Wu+ was awarded the COLA Individual Artist Fellowship and the Public Art Division commission with Los Angeles World Airports Arts Exhibition Program to be completed in 2022. Wu+ received his MFA from the San Francisco Art Institute and his BFA from the University of Windsor. Wu+ lives and works in Los Angeles.

Devon Baur's career has been dedicated to the collision of art and immersive technology. As a PhD student in UCLA, she works to interweave rigorous research with creative practice. She is currently an artist-in-residence in Stanford University's Electrical Engineering Department, where she has spent 3 years developing work at the intersection of multisensory interfaces, virtual reality, and performance. Some of this work will be demonstrated in the forthcoming exhibition "Smell. Print." at the A&D Museum in Los Angeles.

Devon has worked in the VR/AR industry for over half a decade. She served as the Director of the Topanga Film Institute, where she revitalized the annual festival with a world-class VR program - dubbed "one of the coolest festivals in the world" by Filmmaker Magazine - and was featured in the LA Times as an inspiring female entrepreneur. In addition to curation, she has also worked as a VR/AR producer for major clients including Gucci. Notably, she produced the award-winning Tree VR, which toured to over 100 festivals including Tribeca Film Festival, Cannes Film Festival, and twice to the World Economic Forum in Davos.

About the Moderators

This program is the culmination of the Armory's summer internships in association with the Getty Marrow Undergraduate Internship program. This summer, we welcomed Exhibitions Intern Shardé Alexander and Communications/Media Intern James Morris as we embarked on our reopening journey for the Alison Saar: of Aether and Earthe exhibition at the Armory. Shardé and James assisted on various projects on their way to learning the ins and outs of working at a non-profit community arts organization.

Getty Marrow Undergraduate Internships are intended for outstanding students who are members of groups underrepresented in careers related to museums and the visual arts. Students gain experience in key areas such as curatorship, conservation, education, publications, and related programmatic activities. Candidates are sought from all areas of undergraduate study at any higher education institution. Positions are available each summer at the Getty Center in Los Angeles and Getty Villa in Malibu, as well as at other Los Angeles-area museums and visual arts organizations.