Steve Roden: In Between, A 20-Year Survey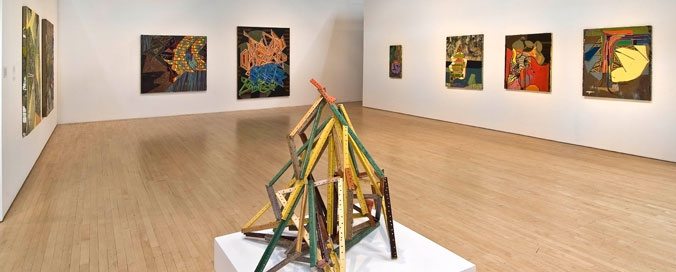 Dates: Sunday, Sep 12, 2010 -
Sunday, Jan 9, 2011
Hours:
Gallery open Fridays, 3 - 7 PM
Saturdays & Sundays, 1 - 5 PM
Free admission, donations appreciated
Exhibition Opening: Sep 11, 2010
7:00 PM to 9:00 PM
Steve Roden: In Between was the first exhibition to bring together Roden's art in all its divergent forms and revealed his work as a homogenous, conceptually coherent practice. Featured in the exhibition was selections of early works that were precursors to the artists numerous later directions, as well as several new works which were exhibited for the first time, revealing the wide trajectory of his artistic evolution.
The overall presentation was rooted in a five-year series of paintings, sculptures, sound works, musical compositions, text works, and video installations from 2004 through 2009 that, while formally divergent, were generated by Roden's systemic operations on the same musical score. The exhibition revealed the unity and continuity of intent within the exceptional diversity of Roden's artistic pursuits.
An illustrated catalogue featuring a comprehensive essay by curator Howard N. Fox plus an audio CD with selections from Roden's sound works is available for sale at the Armory. This exhibition was funded by a grant from the Pasadena Art Alliance.