Olivia Booth: Glass Pavilion Piece (Accardi Piece, Copper Piece, Dad Piece, Sand Piece, Ivy Piece, Lamoa Piece, Taut Piece, Jawlensky Piece, Glint Piece, Studio Piece, Citi Piece…)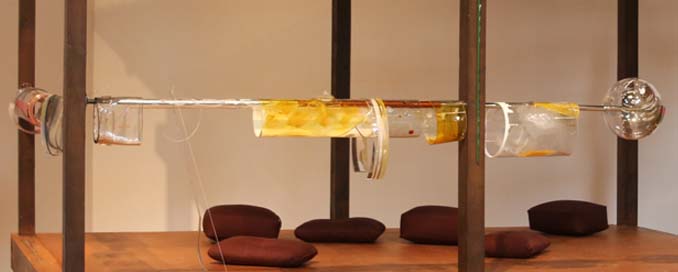 Dates: Saturday, Sep 6, 2014 -
Sunday, Oct 26, 2014
Hours:
Galleries are open by appointment Fridays 3:00 to 7:00 PM, Saturdays and Sundays 1:00 to 5:00 PM.
Admission is always free.
Exhibition Opening: Sep 6, 2014
6:00 PM to 8:00 PM
Glass Pavilion Piece by Olivia Booth as part of the continuing independent programming of the Los Angeles Museum of Art (LAMOA), currently on display in the exhibition The Fifth Wall: Tom Friedman, Evan Holloway, Farrah Karapetian, Alice Könitz, Marco Rios, Corinna Schnitt, Artur Żmijewski in the Armory's Caldwell Gallery. The exhibition's full title, Glass Pavilion Piece (Accardi Piece, Copper Piece, Dad Piece, Sand Piece, Ivy Piece, Lamoa Piece, Taut Piece, Jawlensky Piece, Glint Piece, Studio Piece, Citi Piece…) is an homage to the pavilion as exalted shed. The installation consists of a combination of hanging glass cylinders, rods, and planes with painted marks, considered by the artist to be a survey of her glass centric interests, as reflected in the title. As a group they aim to create a high-strung, exalted space that is neither illusionistic nor literal. The painted reflections on the glass pieces will mingle with the glass's inherent reflectivity and combine highlights from sites elsewhere, far away, long gone, present and imagined.
Strategically blocking certain openings of the LAMOA structure, Booth utilizes a bar of horizontally strung glass with planes that turn in on themselves as if the windows were folding or melting, perhaps toward becoming vessels but never arriving, instead remaining in the state of a wrapped plane. The viewer therefore becomes aware of the empty openings and the power of the glass-less architectural moment. A familiar object that brings a sense of outward extension, glass is nevertheless defamiliarized to expose its role in the world as a means of inward extension and self-reflection; as window turned lens.
Olivia Booth is a Los Angeles-based artist who earned her MFA at Art Center College of Design in Pasadena (2003). Recent exhibitions include All Edge, Weekend Gallery, Los Angeles; Everything Falls Together, Claremont University Graduate Gallery; California Abstract Painting 1952-2011, Nan Rae Gallery, Burbank; and Schindler Lab, MAK Center for Art and Architecture at the Schindler House, Los Angeles. Booth is also an adjunct instructor in the Foundation program at Woodbury University, where she teaches painting, color theory, and composition.
• See Exhibition Pics on Flickr
About Los Angeles Museum of Art (LAMOA)
Alice Könitz's Los Angeles Museum of Art (LAMOA), a c. 13' x 10' x 10' outdoor sculpture that also functions as a museum, was moved from the driveway of her Eagle Rock, Los Angeles studio and re-installed in the Armory's Caldwell Gallery, where it will provide a literal and metaphorical platform for exhibitions and performances to be staged during the run of the exhibition, The Fifth Wall. A sculpture as well as a museum, LAMOA features its own independent programming, including past performances by Kelly Coats and Kathleen Kim of SheKhan at the opening reception and a week-long presentation of videos by Skip Arnold entitled "Skip Arnold China" and other ephemera…, along with an upcoming exhibition by Torbjorn Vejvi (November 2 – December 14).
About the The Fifth Wall
The exhibition The Fifth Wall consists of works on paper, sculpture, painting, video, and photography by seven artists, Tom Friedman, Evan Holloway, Farrah Karapetian, Alice Könitz, Marco Rios, Corinna Schnitt, Artur Żmijewski, from Los Angeles, rural Connecticut, Warsaw, and Berlin. Each has created works that take into consideration alternate, or "wrong" points of view or perspectives. Drawing from Brecht's theatrical practice, the show invites critical self-reflectivity in the viewer. The works in this exhibition "show what is shown in the showing," to borrow Brecht's phrasing. The viewer is made aware of ideas of labor, point of view, and architectural and social constructs that affect their perception of a piece of work. This show seeks to de-familiarize viewers with their own experience of art, and to produce a feeling of strangeness toward what would otherwise have been considered only in a canonical context. Brecht's word for this was the Verfremdungseffekt, or "alienation effect" which, when applied to art, can offer new content in even the most familiar contexts. Just as Brecht wanted his audience to remain aware of the falsity of the spectacle, The Fifth Wall seeks to remind the viewer of the fallacy of point of view. It provides familiarity of subject matter with an estrangement to the object's original context. Made possible by a grant from the Pasadena Art Alliance.