Catfish Dreamin'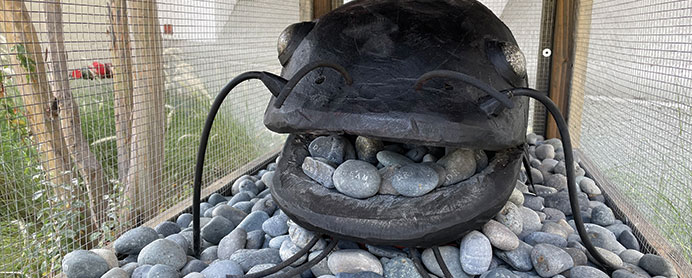 Dates: Saturday, Oct 9, 2021 -
Friday, Apr 1, 2022
Hours:
Armory galleries are currently closed.
Our new exhibition opens on January 28, 2022.
On View in Our Front Garden: Catfish Dreamin'
We are excited to present Alison Saar's Catfish Dreamin', an outdoor temporary sculpture and related online program.

One of Saar's earliest public projects, Catfish Dreamin' was originally commissioned in 1993 by The Contemporary in Baltimore. Inspired by the city's traditional African-American fish and produce vendors, Catfish Dreamin' featured a modified vintage pickup truck that housed a 6-foot catfish sculpture. Inside the catfish's mouth were river stones imprinted with the word "dream." Saar traveled the piece across the Mid-Atlantic in the early '90s, gifting the river stones to anyone who shared their dreams and memories with her.

This new iteration re-imagines the truck, sculpture, and stones as a temporary outdoor installation. It is presented alongside a selection of online artworks (chosen by Saar), and includes a map of recommended LA County waterways to enjoy these virtual works on your mobile device. Contributing artists include Neelanjana Banerjee, Carolina Caycedo, Carmina Escobar with Wesam Nassar, Kate Lain, as well as Saar. Access the online component via a QR code adjacent to the installation, or click the link below.
Catfish Dreamin' was launched in conjunction with the exhibition Alison Saar: Of Aether and Earthe. While the exhibition closed in December 2021, Catfish Dreamin' will remain on display 24/7 in front of the Armory.
---
Past Public Programs
Catfish Dreamin' Artist Talk with Neelanjana Banerjee and Kate Lain
Join us on Zoom for a presentation and conversation between author Neelanjana Banerjee and filmmaker Kate Lain. The artists will discuss their individual practices and their respective contributions to the online program connected to Alison Saar's Catfish Dreamin'.
---


Major support comes from Pasadena Art Alliance, with generous support for the Armory's public programs from the California Arts Council, a state agency, and additional support from Betsy Greenberg. Lead support for the exhibition catalogue comes from the Fellows of Contemporary Art.

Image: Alison Saar, Catfish Dreamin' (maquette), 1991. Toy truck, wood, roof tin, wire. Collection of George Ciscle.