At the Table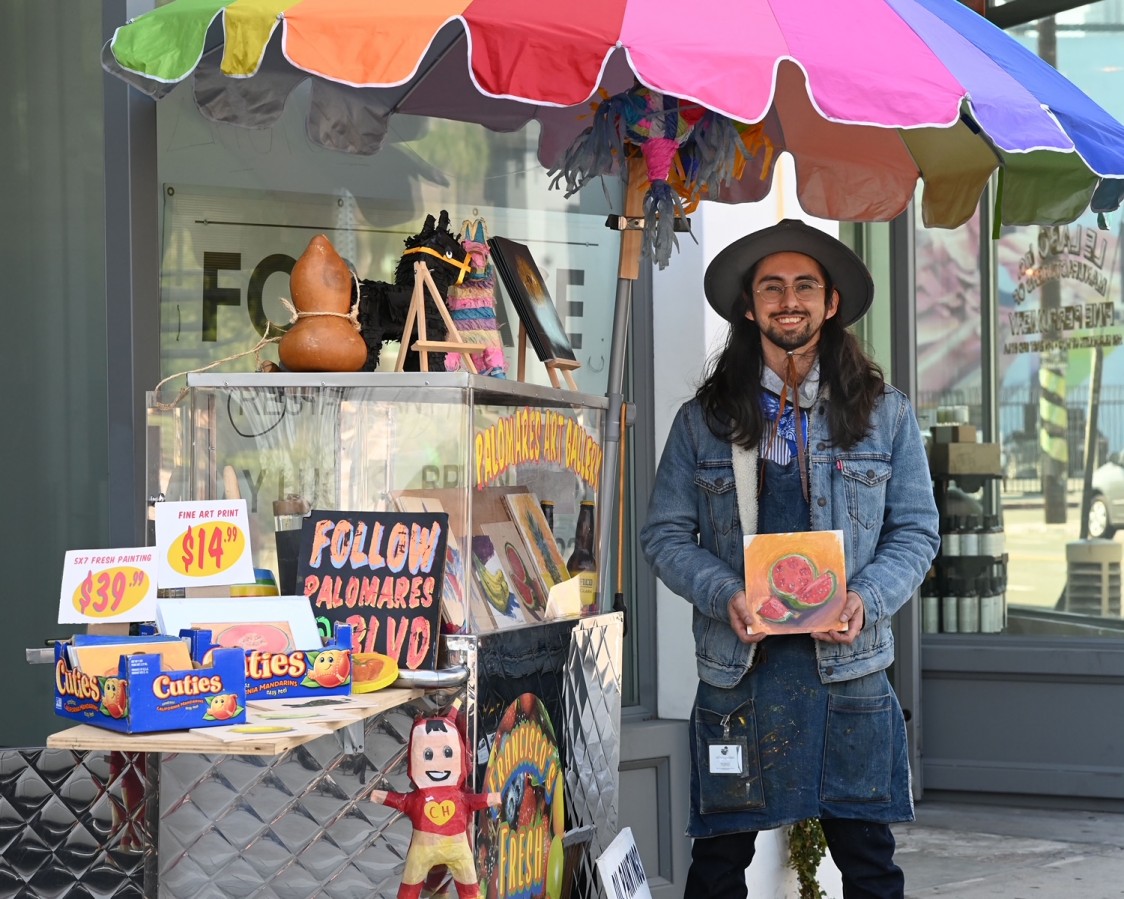 Dates: Friday, Jul 29, 2022 -
Sunday, Dec 4, 2022
Hours:
Gallery Hours:
Fridays 2-6 PM, Saturday & Sundays 1-5 PM
Admission is always free.
Exhibition Opening:
Jul 29, 2022
At the Table is a group exhibition that explores our intimate and communal relationships with food and investigates the many ways these connections were severed or challenged during the 2020-21 lockdown triggered by the COVID-19 pandemic. Through artworks, documentary photography, recorded narratives, and ephemera, this exhibition creates space for reflection on the role food plays in our lives as individuals and in our communities and traces the effects of the pandemic on the ways we interact with and consume food.

Artworks and documentation on view will use food as both subject and material to speak to and create community, examine personal histories and narratives through ingredients and culinary traditions, and respond to social injustices related to food production and distribution.

The artists, projects, and collaborations included in the exhibition are Jackie Amezquita, Champions Feed Champions presented by the Inglewood Community Fridge, domingo presented by The Crenshaw Dairy Mart and The Mistake Room, Yrneh Gabon, Yeu "Q" Nguyen, Francisco Palomares, and alvaro parra.
Organized by Heber Rodriguez, Exhibition Manager / Assistant Curator, Armory Center for the Arts.
Book Your Reservation
Advanced time entry reservations are encouraged. Walk-ins are welcome. Tickets will be released in two-week blocks on the first and third Fridays of each month. Reservations are now being accepted through December 4. Admission is always free. Donations are appreciated.
Holiday Hours: Galleries will be closed the day after Thanksgiving (Friday, November 24). Admission is always free.

Group Tours - Contact us at exhibitions@armoryarts.org if you'd like to organize a guided tour outside of regular hours for up to 20 of your friends, students, or colleagues.

COVID Safety - Masks are required for all Armory visitors and staff, regardless of vaccination status. We recommend KN95, KF94, or N95 masks. Cloth masks are less effective. Masks with face valves, open-chin triangle bandanas, and neck gaiters are not acceptable. All visitors aged 5 and up must show proof of full COVID vaccination. All Armory staff members are fully vaccinated. Click here to review the Armory's COVID safety protocols prior to your scheduled visit. Please ensure all guests in your party are aware of these protocols.

Share with us!
You are invited to contribute to the At the Table food-asset story map! Share your favorite local restaurant, street vendor, farmer's market, food bank, or food justice organization with us. The asset map is an effort to support the recovery of the L.A. culinary industry (one of the hardest hit sectors during the pandemic), gather informational resources for those who are struggling with food insecurity, and uplift local culinary treasures.
Bring dry or canned goods to contribute to our little free pantry!
In the spirit of mutual aid, we will be hosting a little free pantry at the Armory in connection with the At the Table exhibition. If you are able to contribute, please bring any "shelf-stable" or nonperishable food to add to the pantry. Pantry items include:
Peanut butter
Canned soup
Canned fruit
Canned vegetables
Canned stew
Canned fish
Canned beans
Pasta (most prefer whole grain)
Rice (most prefer brown rice)
Only bring food that hasn't reached its "sell-by" date yet. Please do not bring food that has been opened, cooked, or needs refrigeration.
This is just the start of our conversation around mutual aid, food justice, and community care. We'd love to learn and work with our community to see how we can best help.
Past Public Programs
All exhibition public programs are free and donations are appreciated. To support our programming, please go to armoryarts.org/support.
Jackie Amezquita, Proclamación (Proclamation), Activation
August 4, 2022, 6-8 PM
Armory Center for the Arts
By RSVP. Limited capacity.
Jackie Amezquita will lead an activation of her ongoing project Proclamación. Proclamación is a performance/installation where people gather to eat on top of slabs made by Amezquita. Each slab is made by hand using soil from different neighborhoods across Los Angeles, cal hidratada (hydrated lime) from Latin America, salt, and corn masa. The dishes eaten upon the slabs represent Los Angeles' rich culinary diversity. After the activation, these slabs will be incorporated into the exhibition.
Vendedores en Conversación
September 1, 2022, 6-7:30 PM
Virtual (Watch Recording)
Free with RSVP
A screening of the film Vendedores en Acción (2021) followed by a conversation between alvaro parra, the film's director, and Faustino Martinez and Caridad Vazquez, street vendors featured in the film.
Francisco's Fresh Paintings Workshops
July 30, September 24, and November 5, 2022, 1:00 - 2:30 PM
Armory Center for the Arts
Free with RSVP
Join artist Francisco Palomares as he leads a workshop inspired by his Francisco's Fresh Paintings installation included in At the Table. After a short presentation of Palomares' work, workshop participants will be collaging and drawing a street vendor fruit cart-inspired still life from observation.
Emotional Dumpling Workshop
August 13 and November 12, 2022, 1-2:30 PM
Armory Center for the Arts
Free with RSVP
As part of her Empathy Table social practice fiber art project, artist Yeu "Q" Nguyen will lead a series of workshops where visitors will learn how to make their own custom "emotional dumplings", fabric dumplings stuffed and marked with difficult emotions. Workshop participants will be invited to contribute their emotional dumplings to the Q's At the Table installation, giving visitors a chance to come together around a table to create, have a conversation, and share their creations and emotions.
A Souptealicious Conversation
Date: TBD
Offsite
By RSVP. Limited capacity.
Yrneh Gabon leads a performative conversation about climate change and food production while cooking a soup using locally sourced ingredients.
Exhibition Closing Celebration
Sunday, December 4, 2022, 4-6 PM
Armory Center for the Arts
No RSVP is needed.
Media
---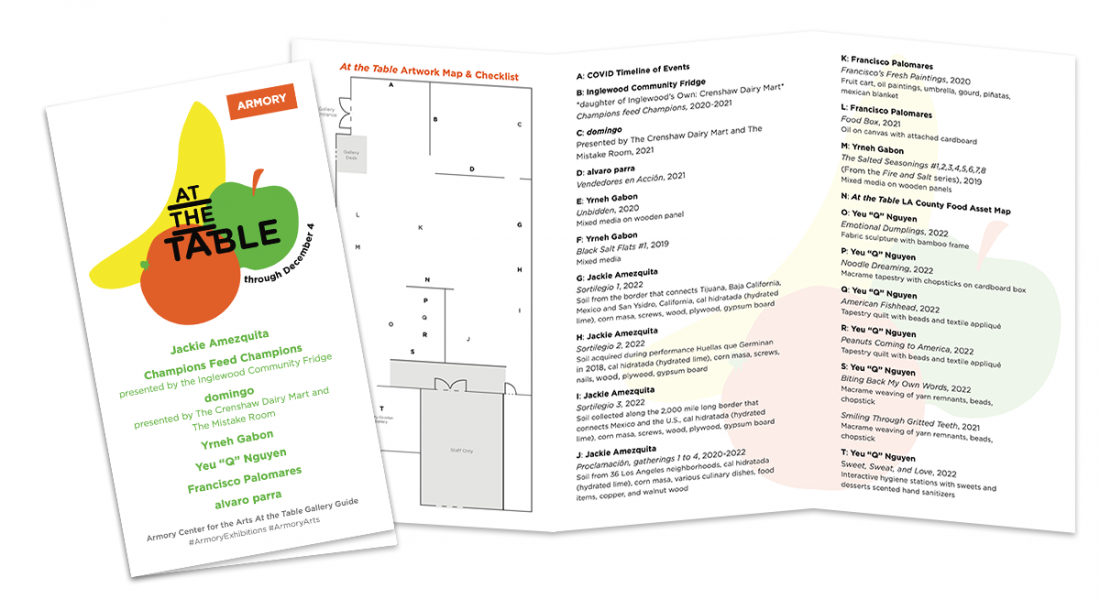 Gallery Guide
Paper visitor guides are available in downloadable, "no-touch" versions in PDF format. Prior to your visit, you can download the Gallery Guide with information about the exhibition and checklists of all artworks in the exhibition. Paper copies are also available onsite at our gallery desk.
---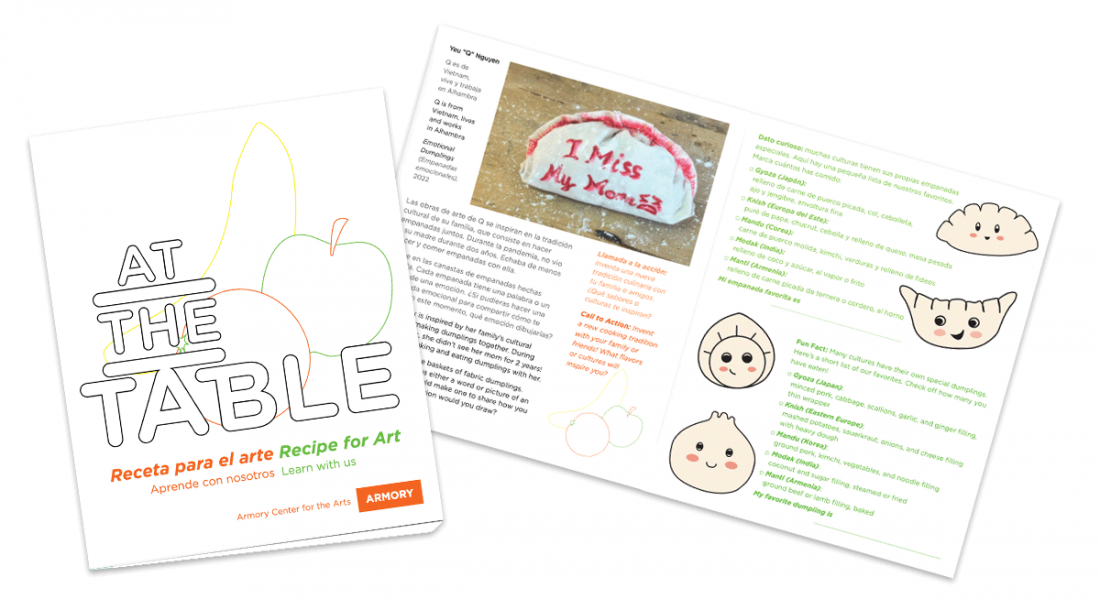 Family Guide
Paper visitor guides are available in downloadable, "no-touch" versions in PDF format. Prior to your visit, you can also download our Family Guide with age-appropriate descriptions of artworks, activities, and questions you can ask your child or yourself to better understand the artwork. Paper copies are also available onsite at our gallery desk.
---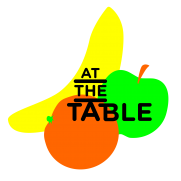 Image: Francisco Palomares. Francisco's Fresh Paintings, 2020. Fruit Cart, oil paintings, umbrella, gourd, piñatas, mexican blanket, 54.5 x 47 x 22 inches. Photo by Cynthia Lum.


At the Table and related public programs are made possible with generous support from the Pasadena Art Alliance and the Institute of Museum and Library Services (grant number: ME-245995-OMS-20). Lead support for all Armory programs comes from the Los Angeles Arts Recovery Fund.