how we are in time and space: Nancy Buchanan, Marcia Hafif, Barbara T. Smith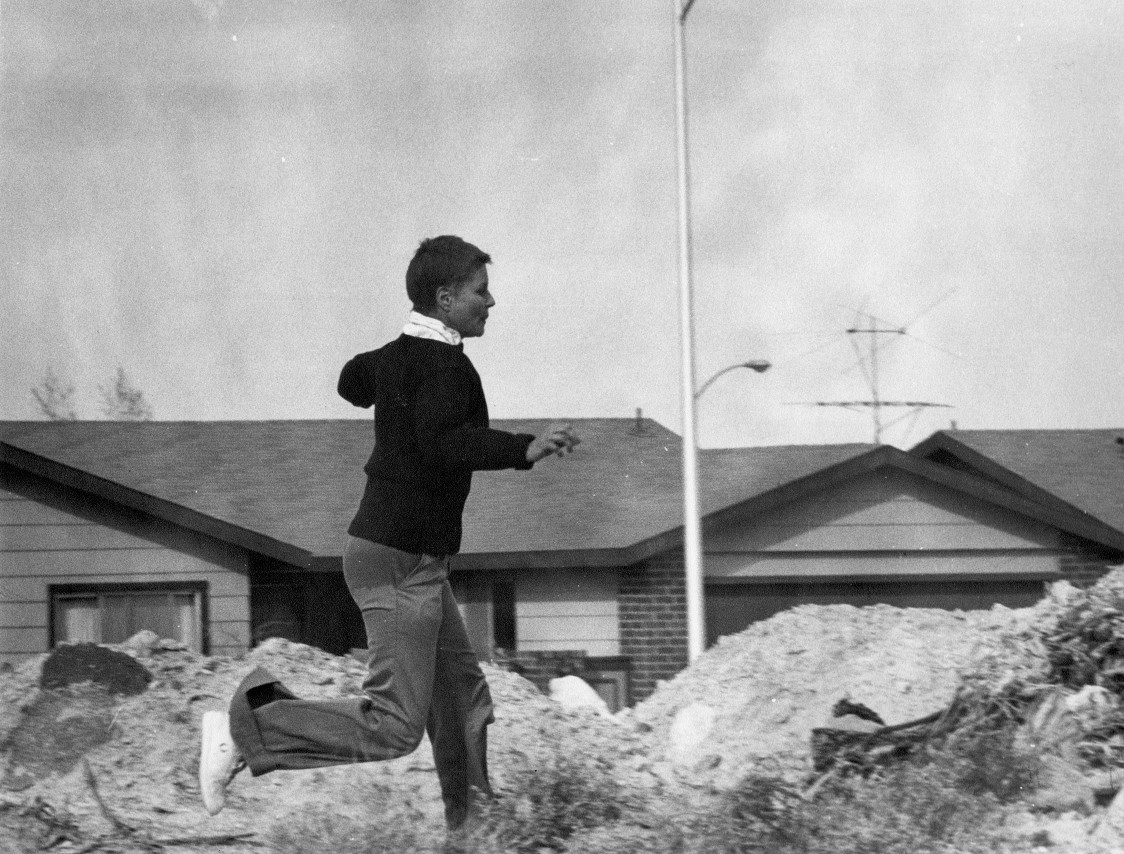 Dates: Friday, Jan 28, 2022 -
Sunday, Jun 12, 2022
Hours:
Gallery open Fridays, 3 - 7 PM
Saturdays & Sundays, 1 - 5 PM
Free admission, donations appreciated
---
"This widely praised exhibition is worth seeing and revisiting..."
— Artillery

Critics' Pick — Artforum

"...a testament to the artists' enduring friendship as well as a lifelong commitment to art-making, and how that, in turn, influenced the greater artistic landscape."
— Los Angeles Times

"...a long overdue exhibition... a reminder to the authority these artists possess."
— Art and Cake

"...remarkable, career-spanning..."
— Hyperallergic
---
This exhibition is shaped by the forces of proximity, friendship, generosity, and longevity. Buchanan, Hafif, and Smith met in the newly formed MFA program at UC Irvine and remained friends for life. Structured around the subjects of bodies, communication, and dwelling, this exhibition reveals a remarkable range of pursuits explored by the three artists for the past 50 years. Though each followed their own trajectory, this exhibition highlights the differences as well as the "empathic overlaps" of these life-long friends.

This exhibition was organized for the Armory by guest curator Michael Ned Holte.
---
Book Your Reservation
Advanced time entry reservations are recommended. Visitors without reservations will be admitted so long as the gallery's capacity limit of 20 guests is not exceeded. Reservations are now being accepted through June 12. Admission is always free. Donations are appreciated.

Group Tours - Contact us at exhibitions@armoryarts.org if you'd like to organize a guided tour outside of regular hours for up to 20 of your friends, students, or colleagues.

COVID Safety - Masks are required for all Armory visitors and staff, regardless of vaccination status. We recommend KN95, KF94, or N95 masks. Cloth masks are less effective. Masks with face valves, open-chin triangle bandanas, and neck gaiters are not acceptable. All visitors aged 5 and up must show proof of full COVID vaccination. All Armory staff members are fully vaccinated. Click here to review the Armory's COVID safety protocols prior to your scheduled visit. Please ensure all guests in your party are aware of these protocols.

---
how we are in time and space: Annotations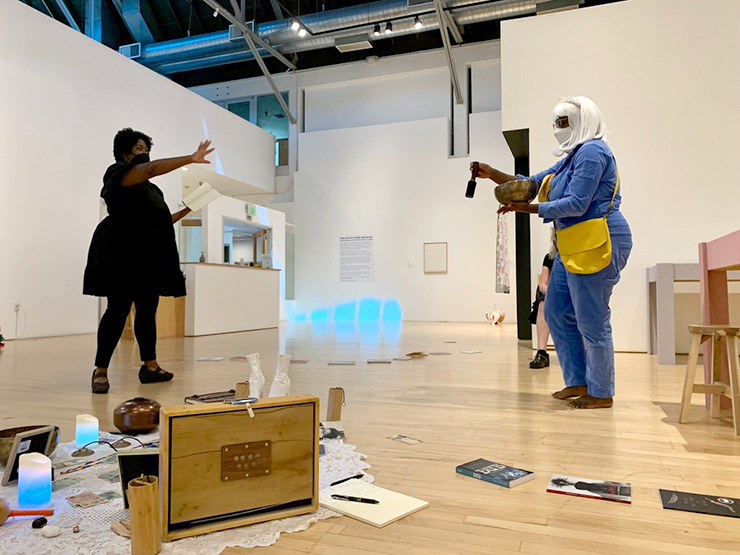 A number of artists and arts organizations will respond to or annotate one or more specific works in this exhibition, resulting in new art works, performances, talks, and workshops. Artists include Neha Choksi, Gabrielle Civil, Patricia Fernandez, Kenyatta A.C. Hinkle, Kang Seung Lee, Babsi Loisch, Matt Siegle, Tashi Wada, Jennifer West, Feminist Center for Creative Work, and The Revolution School.

Image: Performance documentation of Gabrielle Civil and Kenyatta A.C. Hinkle: invocations. Photo by Michael Ned Holte.

Past Annotations Public Programs

Kang Seung Lee: Hotel
Friday, June 10
7:00 to 8:00 PM
View recording here

Gabrielle Civil and Kenyatta A.C. Hinkle: invocations
Sunday, June 5
2:00 to 4:00 PM
in the Armory's Caldwell Gallery

Neha Choksi: Hierarchy Study (Elementary)
Friday, June 3
4:30 to 5:30 PM
The Box Gallery
805 Traction Ave
Los Angeles, CA 91103

how we are in time and space: films and videos by Nancy Buchanan, Marcia Hafif, Babsi Loisch, and Jennifer West
May 21, 1:00 to 2:00 PM
via Zoom
View recording here

Tashi Wada: Duets
May 14, 5:30 to 7:30 PM
Arlington Garden in Pasadena
275 Arlington Drive
Pasadena, CA 91105

how we are in time and space: Two Talks
May 15, 2:00 to 4:00 PM
via Zoom
View Recording of Talk 1 here
View Recording of Talk 2 here
Patricia Fernández Sunny Luna House
March 20, 11:00 AM to 5:00 PM
Yucca Valley

Matt Siegle Sculpture For A Field #5: Sun
March 20, 8:33 AM and 4:33 PM
Location: (34.199364, -116.365554)
Operation Scrooge x Armory: Making/Updating Player Cards
April 19, 6:00 to 8:00 PM
via Zoom

Operation Scrooge x Armory: Making/Updating Player Cards
May 3, 2022, 6:00 PM - 8:00 PM
via Zoom
---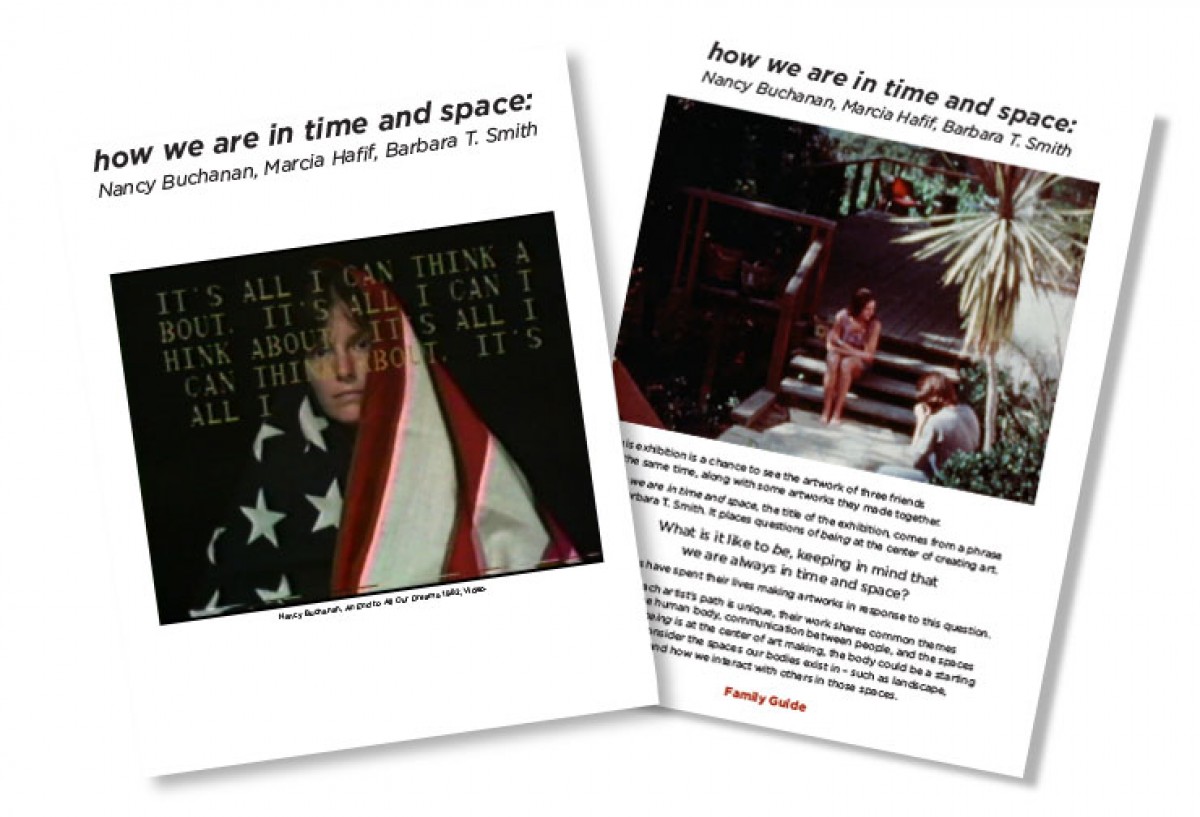 Exhibition Guides
Paper visitor guides are available in downloadable, "no-touch" versions in PDF format. Prior to your visit, you can download the Gallery Guide with information about the exhibition and checklists of all artworks in the exhibition. You can also download our Family Guide with age-appropriate descriptions of artworks, activities, and questions you can ask your child or yourself to better understand the artwork. Paper copies are also available onsite at our gallery desk.
---
Media
The Women Artists Who Found Inspiration in Friendship
(Hyperallergic)
In Formation: How Early SoCal Feminist Artists Forged their Identities through Collaborative Practice
(CARLA)
(Pick of the Week) how we are in time and space: Nancy Buchanan, Marcia Hafif, Barbara T. Smith
(Artillery)
(Critics' Pick) how we are in time and space: Nancy Buchanan, Marcia Hafif, Barbara T. Smith
(Artforum)
Forging a Common Bond
(UCI Claire Trevor School of the Arts)
(Review) how we are in time and space: Nancy Buchanan, Marcia Hafif, Barbara T. Smith
(Art and Cake)
Top Shows to See During Frieze Week Los Angeles
(Frieze)
Fifty-Year Artist Friendship Takes Center Stage in Pasadena Exhibition
(ARTnews)
Enduring Artist Friendships Explored in New Exhibition at the Armory
(24700 - CalArts News)
Seminal SoCal artists Nancy Buchanan and Barbara T. Smith reflect on 50 years of art and friendship
(LA Times)
By scanning her own hands, Barbara T. Smith presents an ode to the aging female body
(LA Times)
The newest L.A. and O.C. museum exhibitions to see in January
(LA Times)
Your Concise Los Angeles Art Guide for January 2022
(Hyperallergic)
Image: Barbara T. Smith, Kiss a Spot Forbidden, 1975, performance documentation. Courtesy of the artist and The Box.

Major support for this exhibition and related public programs comes from the Mike Kelley Foundation for the Arts and the Pasadena Art Alliance, with generous support from the Michael Asher Foundation. Major support for all Armory programs comes from the Los Angeles Arts Recovery Fund.