Armory Teaching Artist and ceramics instructor Elonda Norris has shown nationally and throughout Los Angeles. Using household items, furniture, and food, her artwork invites us to question our relationship with convenience and consumption while reaffirming our connections to each other. Elonda is a Co-Founder of Summercamp's ProjectProject, an alternative art space in El Sereno.

We asked Elonda to share some of her favorite ceramic artists with us. "Ceramic artists are used to working within constraints and allowing the process to evolve. There are disappointments, things never turn out quite as you expect. However, you move forward—sometimes even finding beauty and joy along the way. Here is my list of 5 ceramic artists I've been thinking about."

Banner Image: Yee Sookyung, Translated Vase_Thousand (detail), 2012. Ceramic shards, epoxy, 24K gold leaf. Dimensions variable. Installation view. Courtesy of the artist's website.
---
Armando Cortes
"Clay as weight. Clay as process. Clay as physical history. Armando Cortez speaks to all that I love about clay that has nothing to do with a finished fired product."
---
Kathy Butterly
"Vessels at the point of collapse juxtaposed with precision. Kathy Butterly's folds of clay drape and seem about to buckle, in every moment topple, but somehow the ornate details of a spindly handle or a line of color keep it all in balance. A messy, stunning balance."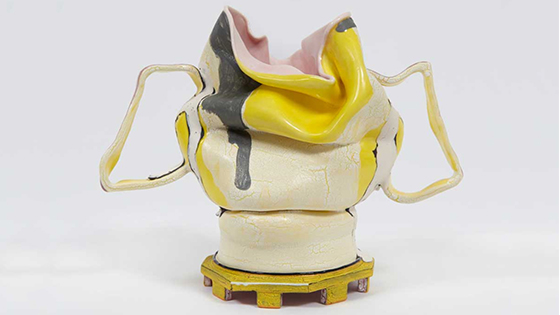 Kathy Butterly, Solid Flow, 2017. clay, glaze, 5 1/8 in x 6 1/2 in x 3 5/8 in. Courtesy of the artist's website
---
Eva Zeisel
"There is a nesting set of dishes designed by Eva Zeisel that sticks in my mind. The stack looks like a drop of milk in a time lapse. Her attention to relationships, such as the belly of a cream pitcher fitting into the shoulder of a sugar bowl or the curve of a hand fitting around a handle speaks to our larger interconnectedness."
---
Paulus Berensohn
"As a teen, Paulus Berensohn's seminal book Finding One's Way with Clay formed my understanding of pinching clay as a meditation. To this day, if I enter the ceramic studio unsure of where to begin... I'll begin with a pinch pot to slow myself down and get into the moment. "
---
Yee Sookyung
"When we throw things 'away,' there is no place called away. It is all still here. Yee Sookyung uses kiln discards from historical reproduction potters in Korea to make her fantastical sculptures. She finds shards that fit together, even though they never have before. A new narrative has begun."
---

We can still come together as a community to celebrate the power of art. If you are in a position to do so, please consider supporting the Armory today. We pledge to continue providing exceptional arts programming for all, while supporting our staff and teaching artists to our fullest ability in the weeks to come. Your tax deductible donation will help safeguard our mission through this crisis and beyond. Thank you.
---