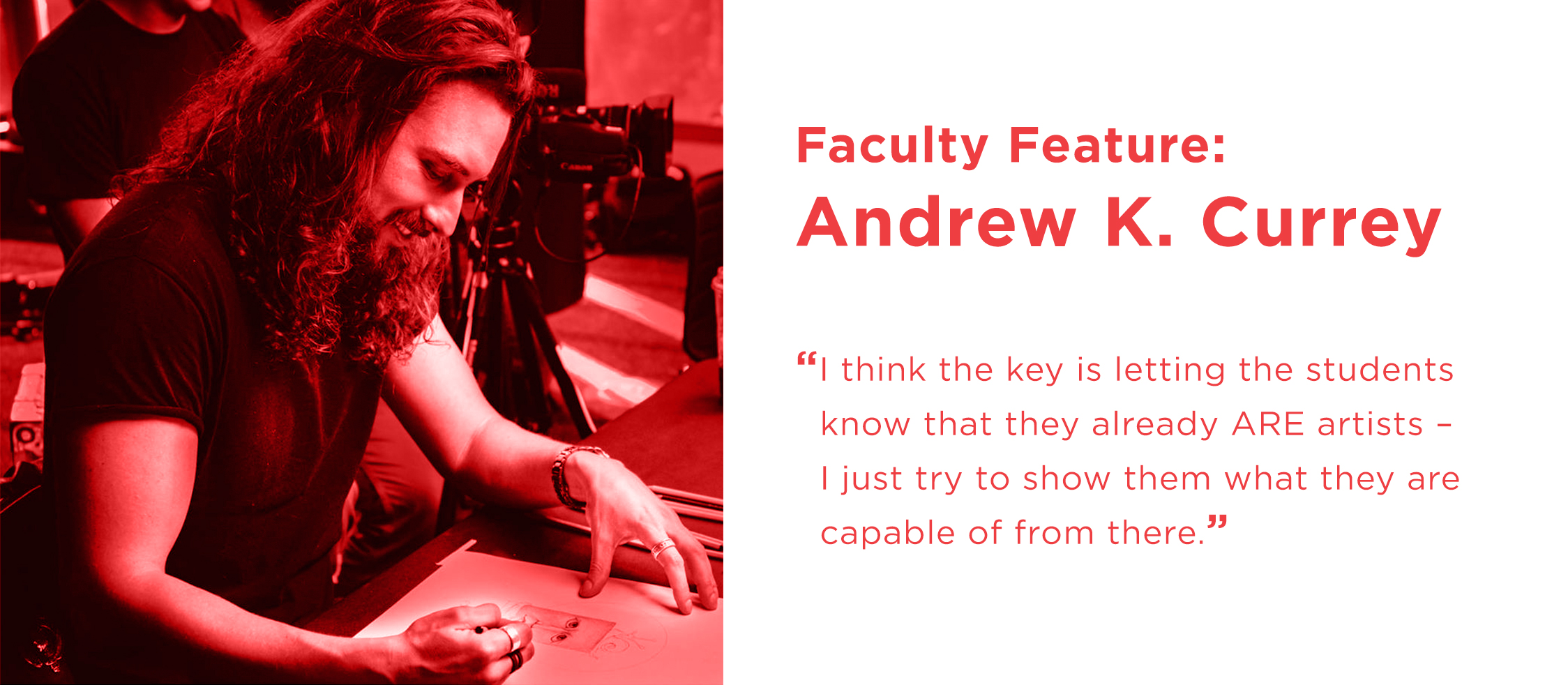 ---
On May 26, 2020, we asked Armory Teaching Artist Andrew K. Currey to take over our Instagram account for the day. Here's what she shared. Be sure to follow us @ArmoryArts for future #TakeOverTuesdays from our faculty, students, volunteers, and more.
---
Hello there! I'm Armory Teaching Artist Andrew K. Currey. I typically teach for the Armory's Studio Figure Drawing classes in the evenings. I'm going to spend today showing you some of my work and letting you get to know me a little bit better.
I received my Bachelors in Fine Arts at the University of North Texas in Denton, Texas. In 2009 I studied art restoration in Florence, Italy at the Lorenzo D'Medici School, where I restored 15th, 16th, and 17th century paintings for the Catholic Church. Later, I moved to Los Angeles and went to Otis College of Art and Design,for my Masters degree in Fine art with emphasis in Drawing. In 2014 I became the Artist-In-Residence of Shankill Castle in Paulstown, Ireland, and studied the gilding and illumination techniques of 9th century monks that I currently use in my art practice. This past year I was also a featured artist on Nickelodeon's "Same Character, Different Artist" Webseries.
I am a medievalist. My work deals with the complex depiction of vulnerability and uses visual metaphors to depict how it is displayed, concealed, or endured through use of medieval and anachronistic imagery. I grew up attending renaissance festivals, and was absolutely enamored by medieval history. But as I got older I started to appreciate the historical artistry of the middle ages in a different way. There is a quote by J.R.R. Tolkein, "I do not love the bright sword for its sharpness, nor the arrow for its swiftness, nor the warrior for their glory. I love only which they defend." This notion about defense and vulnerability that resounded with me, that I wanted to encapsulate in my work.
My current series showcases hand drawn depictions of tiny battles. These drawings are small, typically large enough to wrap your arms around (huggable sized drawings). And, are meant to discuss the tiny battles we carry around with us every day. No matter how small, these tiny battles, symbolize internal struggles with ourselves, our morals, our role in society -- there is always a struggle that feels like chaos. But the struggle yields growth, and there can be a sense of beauty and peace in our own personal tiny battles.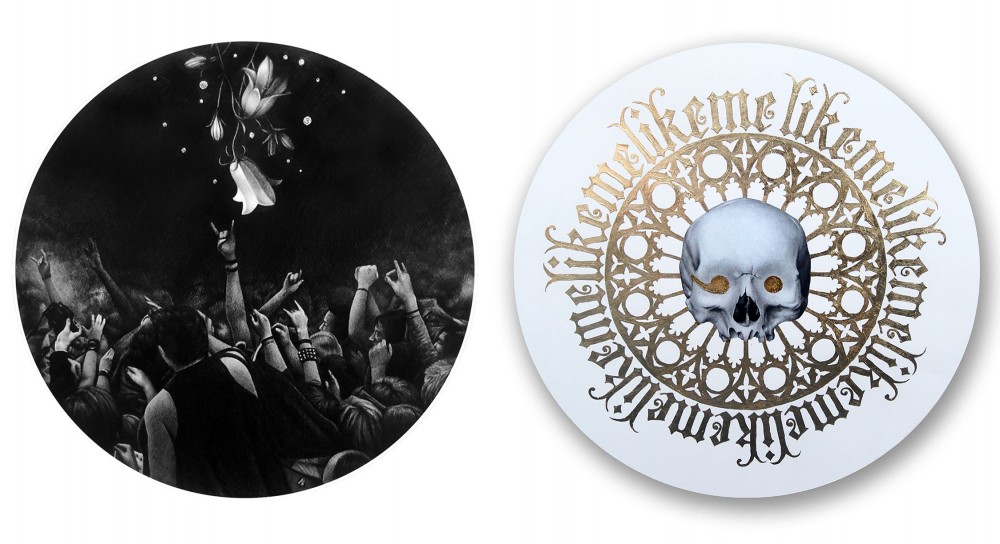 "The Fray"
Graphite and Goldleaf on Paper
41 in X 10.5 in
2019
"The Fray (with sunflowers)"
Graphite and Goldleaf on Paper
25.75 in X 16.5 in
2020
"The Pit"
Graphite and Silverleaf on Paper
18 in X 18 in
2020
The technique I use to lay in gold is similar to the technique used by 9th century monks for illuminating sacred texts. I apply this same method with a little more frivolity and humor on the notion of sanctity in artwork. This is part of the reason why a majority of my pieces take on altar piece shapes. Viewing artwork hanging in a gallery similar to a contemporary reliquary, our heads bowed considering, reflecting (or at least acting like it) - while we view the work.
Part of my work in dealing with vulnerability has been discussing how social media and technology affects our sense of self worth, belonging, and reliability and how we are perceived by others.
"Liked"
Pencil and Gold Leaf on Paper
20.5 in X 20.5 in
2018
"Sepulcher"
Pencil and Goldleaf on Paper
27.25in X 18 in
2017
"Watch and Subscribe"
Pencil on Paper
29 in X 32 in
2018
I hope you enjoyed learning a bit about myself and my artwork. Stay tuned to the awesome programming the Armory offers by visiting our link in bio.
"The Special"
Pencil and Goldleaf on Paper
55.75 in x 35 in.
2019
"Delicate"
Graphite and Colored Pencil on Paper
34 in x 34 in
2018
You can learn more about me and my work on my page @andrewkcurrey.
All images courtesy of the artist.

Image: Alison Saar, Rouse, 2012, Wood, paper, bronze, found antler sheds, graphite. 90 x 60 x 60 inches. Image courtesy of the artist, and L.A. Louver.