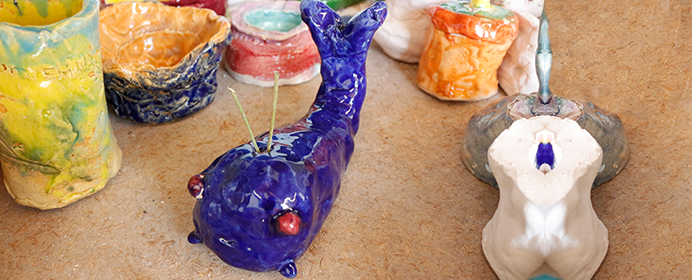 Now with more options of classes meeting twice a week or once a week for Kids and Teens! Classes everyday of the week for kids, teens, and adults! The Armory is here to support everyone's artistic journey. Classes include Ceramics: Wheel Throwing & Handbuilding, Figure Drawing with Live Models, Oil Painting, Photography, Still Life Drawing & Painting, and more! Our classes are taught by practicing artists who share their personal and professional experiences. In-person classes for students ages 3 to adult.
Armory members save 10% on class tuition and 10% at community partner Blue Rooster Art Supplies, learn more at armoryarts.org/member.
As onsite classes resume, visit armoryarts.org/safety to learn how we are keeping students and faculty safe. Proof of COVID vaccination is required for students aged 5 and up. Masks are required for all students.
The scholarship application period for summer opens soon, apply here.
Summer 2023 Studio Session Dates
Kids & Teens
July 10 - August 3
(2 classes per week, 8 class meetings total)
Mondays & Wednesdays
OR
Tuesdays & Thursdays
OR
July 14 - August 20
Friday - Sunday
(One class per week, 6 class meetings total)
Adults
July 10 - September 3
Mondays - Sundays. Classes meet once a week.
(8 class meetings total)
Members register 1 week early!
Summer class listing will be available to browse by Wednesday, March 15
For now, please browse our Spring classes.
Stay updated by subscribing to our email list or following us on social media.


---

Armory Center for the Arts gratefully recognizes these funders of our scholarship-based studio art programs: Pearlman Geller Family Foundation and additional support from the National Charity League - San Marino and Rotary Club of San Marino.